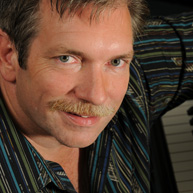 About Lee
Lee Davis doesn't just make music, he lives and breathes it. Along the way his talents as a gifted musician, producer, composer, songwriter and author have awed audiences across the country.
Davis' musical adventure began at an early age. The native of North Georgia was immersed in music from an early age by his mother, a classically trained vocalist. As a seven-year-old he was already playing piano for his father's church congregations and, having saved money from delivering newspapers, he bought his first guitar and tape recorder just a few years later.
"First I was playing the piano, and then by the time I was 10 or 11 I started just adding instruments," Davis remembers. "Pretty soon I was playing guitar and then the saxophone and then the drums, bass and the harmonica."
Pretty soon Davis' musical horizons were expanding. He began learning country music, blues, folk, rock and R&B. Still, his music has always been shaped by those early experiences as a child musical prodigy.
"I was classically trained by my mother, who knew me how to get the right kind of musical instruction for me," Davis says. "I still play classical music, so both that and gospel music have been big influences on me. Those roots still carry through to everything I do."
Davis was still a teenager when he began collaborating with bandleader Mark Garrison. The pair wrote, recorded and played music together at club dates and concerts throughout the Southeast for many years. He also played in a variety of other bands in this early 20s, while continuing to hone his skills as a classical pianist and composer.
Since then Lee has played piano for numerous local and national artists, including Jan Smith, Corey Smith, Ty Herndon, Thompson Square, Linda Davis, Steve Cropper, Joe Diffie, Mark Collie, Billy Dean, as well as scores of other popular artists.
Eventually in 1986, Davis opened his own recording studio, Lee Davis Studios, in the quaint Southern town of Maysville, Ga. He had toured all over the country, but it was time to settle down.
"I would consider myself a small town boy," Davis says. "I had been to so many places and traveled so much and I really love Nashville and lot of other big cities I've spent time in, but I wanted to put my roots down. I've come to really love where I'm at and Maysville is important to me. The studio environment is very important to me."
Since opening Lee Davis Studios, he has produced more than 50 independent albums, by such varied artists as Craig Collins, CMT's Music City Madness winner Kurt Thomas, Joe Olds, Mercy Tree, The Lord's Messengers, The Foxfire Boys, world-renowned vocal coach Jan Smith and independent "phenom" Corey Smith.
Davis' deep experience with a wide variety of genres allows him to help any type of band, singer or musician. Whether from bluegrass to Christian rock and folk to gospel, Davis has done it. And instead of just renting out the studio, then pushing musicians out the door, he works with them to develop a roadmap to the recording industry.
"The studio is definitely the place where they can come in and get quality experience without cutting off an arm and a leg to pay for it," Davis says. "I really do help people get into the industry and get their feet in the door."
Dividing his time as producer and composer, Lee has also written and produced original compositions for MTV and other television programs. A long-time member of the National Academy of Recording Arts and Sciences, he has received numerous songwriter awards and recorded three albums of his own piano compositions. His first album, Moments in Time, and his latest album, Falling, which was released in June 2008, are both currently available for purchase. Lee Davis's label, Rogue Records, had six top 100 singles on several national, independent charts,
In addition to his composing work, Davis wrote his 1999 book "Keyboard Primer" (published by Watch and Learn) and appeared in an accompanying DVD. The book and DVD teach beginners the basics of playing the piano have sold more than 100,000 copies. He is currently working on a second edition, to be released in 2009.